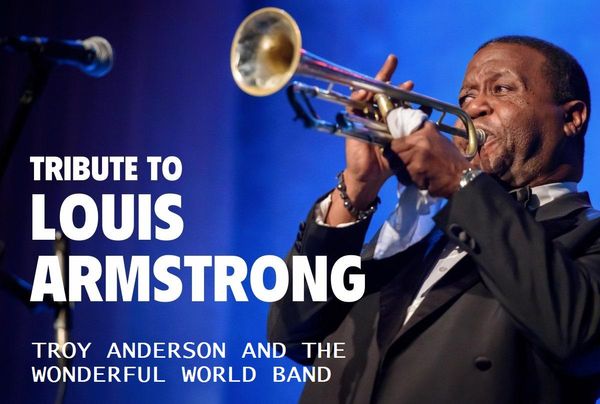 International performing artist, trumpeter and vocalist Troy Anderson and The Wonderful World Band have the same instrumentation as Armstrong's Hot 5 but has the ability to break it down to a Trio plus Anderson with the same delivery. Perfect for the elite sophisticated corporate events, festival concerts and club scenes.  Troy Anderson and the Wonderful World Band is one of the finest bands to hit the South Florida beat simply because Troy has consolidated some of the best musicians South Florida has to offer, including Brad Keller-keys, Paul Shewchuk-bass, and John Yarling-drums. Combined as a group, these individuals have performed with many of the jazz greats of yesterday and today.  Anderson with this line up is an explosive night of entertainment.
REVIEWS:
Kelli and Martin Fein (The Houston Symphony)
Dear Mr. Anderson, 
Bravissimo on your brilliantly thoughtful, skillful, talented, creative and breath-takingly exquisite performance, which was the highlight of the 2010 Houston Symphony Ball!  Your amazing talent resonated with everyone in the room!  On behalf of The Houston Symphony Family, we extend our heart-felt thanks for your rhapsodic genius voice; passionate excellence and consumurate professionalism, which defined and elevated our theme of "Music Matters-What a Wonderful World" beyond our excepations. Your work and talent are transcendent!  Thank you for making our world, our event, and our memories "wonderful".  We hear your music and we smile with gratitude, friendship, respect and admiration.
Kelli and Martin Fein
The Houston Symphony
Houston, TX
Troy Anderson honors Dr. Maya Angelou, September 2011
"Troy was fantastic!  He set the tone for a joyous night of celebrating Dr. Maya Angelou.  She was in tears backstage as he performed What a Wonderful World.  Hats off to you my friend for another job well done."
Scott Brogan
Brilliant Lecture Series
Houston, TX
Troy Anderson performs with The Victory 6 Swing Band
"Troy has performed for us on several occasions here at the WW2 Museum where he does a spectacular show.  Our band loves working with him and he's a joy to work with here at our Stage Door Canteen venue and will have him back often. "
Victoria Reed Entertainment Director
The National WW2 Museum Stage Door Canteen
New Orleans, LA
AWARDS:
Troy Anderson in Vegas with the Wonderful World Band
Wins 1st Place Tribute Artist Award as Louis Armstrong 2011
Wins the 20th Annual Reel Awards Classic Crooner Award as Louis Armstrong 2011