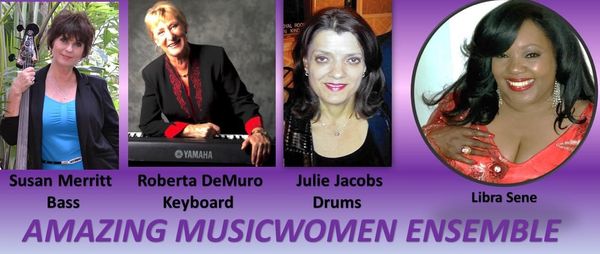 ---
Libra Sene is a native New Yorker. She started her singing as a child in a musical family. Her uncle Herbert Tisdale was a celebrated trumpet player who toured with several jazz greats. He encouraged Libra's love of music and learning. She attended the High School of Performing Arts. Soon after completion, Libra was recruited by the girl group MUSIQUE that had the chart-topping hits In The Bush, Keep On Jumping, and Summer Love. They toured Europe and Las Vegas and appeared on television and dance programs. Libra went solo to develop her night club act, performing Jazz and Soul. At a New York club, Ornette Coleman was so impressed with Libra's voice that he hired her to sing on the soundtrack of his film Box Office directed by Josef Bogdanavitch. Libra became one of New York's most popular Jazz and Neo-soul artists. She sings standards and blends them with her own unique repertoire. Her performances leave the audience wanting more. Libra performed at Birdland, S.O.B 's, The Blue Note, and B.B. King's, and Ashford and Simpson's Sugar Bar. Her one-woman show, SONG BIRD, was well-received in Europe, The Middle East, and West Africa. Libra resides in West Palm Beach where she continues to share her joy and love of music. She is the National President of Women in Jazz South Florida. www.librasene.com.
---
Roberta Demuro was born in Canada. She is a singer, piano player, and a dynamic entertainer. Roberta has been a musician all her life, and she feels fortunate to be involved in her life's choice career. Music has offered her the opportunity to travel to many wonderful places like Acapulco, Scandinavia, Greece, Germany, and England. She spent many years onboard cruise ships. The shows she presents are the result of research, putting together composers, their stories, and their music. Roberta said, "Music is the window to the soul and uncovers the path to happy memories." Since 2012, Roberta has been the musical director for the Amazing Musicwomen Ensemble. She lives between Maine and South Florida.
---
Julie Jacobs is a drummer who comes from a long line of musical talent and has traveled internationally and throughout the U.S. When she is not in the pits of musical theater, she can be found doing what she loves most, backing an amazing array of jazz vocalists and cabaret artists. She has performed in ensembles ranging from Jazz trios to big bands. Her most notable engagements include gigs with the Norm Kubrin Trio at the Colony Hotel, renowned pianists Mike Renzi and Tedd Firth, and concert dates with Ann Hampton Callaway, Hilary Kole and Clint Holmes. Other performances included those with Lucie Arnaz, Melissa Manchester, and Liz Callaway.
---
Susan Merritt has been a professional musician for most of her adult life playing a wide variety of music from country/bluegrass to jazz. She worked for the Live Entertainment department at Busch Gardens in Williamsburg, Virginia as a bassist in The Old Country and on the entertainment staff. While in Virginia, Merritt was hired for an extended engagement in Florida with a musical theater company. She has since worked in a number of performance venues and theaters in South Florida where she currently resides. Merritt and her music partner, Marty Campfield opened their own jazz club, The Jazz Showcase of West Palm Beach, and also co-founded The Jazz Arts Music Society of Palm Beach (JAMS) She served as the President and Executive Director of this 501c3 arts organization for twelve years. In 2006 Susan Merritt received The American Heritage Award for Outstanding Community Service from the Palm Beach Chapter of Brandeis University National Women's Committee in recognition of her work with JAMS. Her trio was the house band at The Four Seasons Living Room Lounge in Palm Beach from 2000-2012. Currently, she performs in West Palm Beach at Café Centro in Historic Northwood with her trio on Wednesday evening and hosts a jazz jam session there on Sunday evening. In addition to performing she is also a private music instructor and teaches about 25 students weekly.
---
Dr. Joan Cartwright is a renowned veteran of the Jazz and Blues stage for 40+ years.  She is a retired vocalist, composer of over 60 songs, and author of 14 books, including her memoir, touring and teaching experiences in 20 countries, poetry, women in music, and the business of music. Her titles include Amazing Musicwomen, So You Want To Be A Singer? and A History of African American Jazz and Blues with interviews with Quincy Jones, Dewey Redman, Lester Bowie, and other noted Jazz musicians and aficionados.  Joan holds a B.A. in Music and Communication from LaSalle University, in Philadelphia, PA; an M.A. in Communications from Florida Atlantic University in Boca Raton, FL, and she is a Doctor of Business Marketing from Northcentral University, AZ.  In 2007, Joan founded the 501(c)(3) non-profit Women in Jazz South Florida, Inc., to promote women musicians, globally. In 2016, WIJSF will released its 6th CD of female composers. Joan hosts an Internet radio show MUSICWOMAN, featuring women who compose and perform their own music.  Joan has two personal CDs – Feelin' Good and In Pursuit of a Melody.  She has performed and lectured around the nation and the world. She is a featured actor in Last Man and The Siblings, two sitcoms produced online by her daughter Mimi Johnson of MJTV Network www.mjtvnetwork.info. In 2014, Joan was honored as the first Lady Jazz Master in Atlanta, GA. In 2017, she was inducted into the Sunshine Jazz Organization's Jazz Hall of Fame, in Miami.  In 2019, WIJSF published the first issue of Musicwoman Magazine. She resides in Boynton Beach, FL.