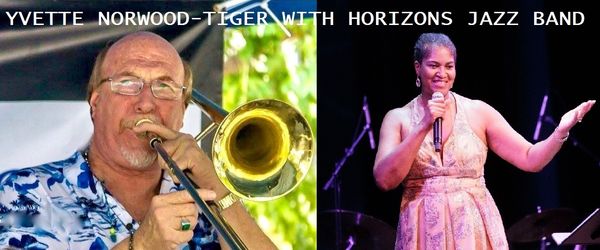 ---
Yvette Norwood-Tiger is an international jazz vocalist, recording artist, songwriter, The Recording Academy voting member, and founder/director of the Palm Beach International Jazz Festival. She is a Detroit, Michigan native who hails from a family of musicians, including a father who played guitar and a mother who played drums. 
Her CDs, A'LA ELLA! and whY NoT... Love, Peace, Joy, Jazz, features music from great composers such as Cole Porter, Duke Ellington, and the Gershwins.  ette's newly released CD, LOVE IS, is a wonderful compilation of great jazz standards and original songs and music with some of the tunes celebrating the works of musical geniuses John Coltrane and Duke Ellington.  Her general repertoire includes jazz standards, bebop, and Latin jazz. She performs with vocally clean and pure interpretations of the Great American Songbook, while emphasizing intonation and storytelling.  Yvette performs jazz songs in six languages including English, French, Italian, Portuguese, Spanish, and Xhosa. Her vocal styling and texture is often compared to that of Ella Fitzgerald and Billie Holiday. She performs internationally at historic jazz venues and has sat in with jazz orchestra The Cotton Club All Stars at the famous Cotton Club in Harlem, NY. She has also sat in with Latin music artist, Tito Puente, Jr., the late saxophonist David Fathead Newman, family members of Celine Dion, and Jay Beckenstein and Tom Schuman of Spyro Gyra. 
Yvette resides in south Florida where she performs extensively, including performances at the Raymond F. Kravis Center in West Palm Beach, the Arts Garage, and the Cultural Council of the Arts of Palm Beach County. Yvette performs sold out/standing room only concerts at Royal Albert Hall in London, England, the Muizenberg Jazz Festival in Cape Town South Africa, as well as at one of the top jazz venues in Berlin, Germany (B-Flat Jazz Club). She performs at Palais des Beaux-Arts (Bozar) in Brussels, Belgium in addition to various venues in New Jersey, New York (Birdland), Florida and Michigan (Cliff Bell's). Yvette performs sold out/standing room only concerts at the Arts Garage in Delray Beach, Florida and at Royal Albert Hall (her second concert at Royal Albert Hall in London, England. Her performances in her hometown Detroit, Michigan at the historic jazz club Cliff Bell's are sold out/standing room only concerts as well.
Yvette's CD, LOVE IS stayed on JazzWeek charts for over twelve weeks.  Yvette was recently featured in short film titled "Art Meets Jazz on J Street".  A film produced and directed by south Florida film maker, James Venable. Art Meets Jazz on J Street was presented at the Boynton Beach Short Film Festival and at the Northeast Film Festival in Teaneck, NJ, and is the winner of the 2018 Wavelengths Awards.
After going through extensive treatment and a tedious recovery of a brain tumor in 2012, Yvette's mission has evolved into uplifting, inspiring, as well as entertaining her audiences around the world.
---
G. MICHAEL BALOGH, founder/director and band leader of Horizons Jazz Orchestra, is a tenor/bass trombonist with an extensive background in multi-genre music performance including jazz, funk, Latin, R&B, and Broadway.  Horizons Jazz Orchestra's recent recording of CD, "HORIZONS JAZZ ORCHESTRA PLAYS THE MUSIC OF LEE HARRIS – THE BRITE SIDE" reached #28 in the Downbeat/ Billboard chart.
Michael has performed as a sideman with past and present artists including Melton Mustafa, Pauly Cohen, Bobby Rodriguez, Peter Duchin, Carlos Pinera, Michael Carney, Alex Donner and Dennis Noday/Lee Harris.
Michael has also performed with noteworthy trombonists Bill Watrous, Carl Fontana and Frank Rosolino, Frank Sinatra, Tony Bennett, Johnny Mathis, Aretha Franklin, Dionne Warwick, Mel Tormé, Bob Hope, Lou Rawls, Julie Andrews, Liza Minnelli, Ann-Margret, Frank Sinatra Jr., Sammy Davis Jr., Robert Goulet, Wayne Newton, Barry Manilow, Manhattan Transfer, Chuck Mangione, Anthony Newley, Shirley Bassey, Mariah Carey, Michael Jackson/The Jacksons, Justin Timberlake, Paul Simon, Bobby Caldwell, KC & the Sunshine Band, Gloria Estefan & Miami Sound Machine, Four Tops, Ike & Tina Turner, Temptations, Spinners, O'Jays, Teddy Pendergrast, Julio Iglesias, Celia Cruz, El Puma, Juan Gabriel, José José, Raphael, Salsoul Orchestra, and Jerry Lewis. 
Michael has also performed national Broadway tours of West Side Story (under the direction of Leonard Bernstein), The King and I (Yul Brynner), Camelot (Robert Goulet), A Chorus Line, Carousel (Robert Goulet), Annie, The Wiz, Pippin, Oklahoma, South Pacific, Sweeney Todd, Chicago, Sugar, Mack and Mabel, 42nd Street, Jesus Christ Superstar, Phantom of the Opera, Les Miz, Miss Saigon, Annie Get Your Gun (Debbie Reynolds), Hello Dolly (Carol Channing), Kinky Boots, Man of La Mancha, Mame (Angela Lansbury).  Michael is a graduate of the United States Navy School of Music and University of Miami Frost School of Music, Bachelor of Music Education. 
His new CD, "HORIZONS JAZZ ORCHESTRA PLAYS THE MUSIC OF LEE HARRIS – THE BRITE SIDE" can be purchased at CD - HORIZONS JAZZ ORCHESTRA - THE BRITE SIDE .